About Aarya Ambekar

Female singer Aarya Ambekar from India, famous due to tv
Sow "Sa Re Ga Ma Little Champs
Aarya Ambekar Singer Biography, Interview & Pictures

Aarya Ambekar (Marathi: आर्या आंबेकर, born June 16, 1994) is a playback singer from Pune, Maharashtra, India. Aarya shot to fame when she participated and reached the finals of Sa Re Ga Ma Pa Marathi L'il Champs aired on Zee Marathi channel between July 2008 and February 2009.


Background

Aarya was born in Nagpur to Samir Ambekar, a doctor and Shruti Ambekar, a vocalist, who teaches her classical music.

Aarya's grandmother, a classical vocalist, recognized the talent in Aarya when Aarya was a mere 2 years old. Aarya started her formal musical training at the tender age of five and half years from her Guru and Mother, Shruti Ambekar. At the age of six, whilst in first standard, when children are trying to learn to speak, Aarya appeared her first examination in Music.

Aarya participated in Inter-School Singing Competition, and stood first in it, when she was in third standard. She has never turned back since then. She has sung for numerous Hindi/Marathi albums and a couple of Marathi films as well.

Her talent was showcased to the world when she participated the enormously popular reality show, Sa Re Ga Ma Pa Marathi L'il Champs aired on Zee Marathi Channel during July 2008-February 2009. Aarya was 14 years old then, i.e. in ninth standard.


Career

Sa Re Ga Ma Little Champs

In 2008, Aarya auditioned for the Sa Re Ga Ma Pa Marathi L'il Champs, a competitive music reality show organized by the Zee Marathi television channel. She was one of final 50 who were selected from amongst several thousand children aged between 8 and 14 across Maharashtra. She made her way to the top 10 finalists and then to the Final 5 Mega-Finalists on the basis of her immense talent and singing capabilities.

Aarya was popularly referred to as the "Pretty Young Girl", during the show.

Aarya displayed her versatile vocal talent by singing a wide variety of songs in the competition. She created the record of receiving full marks from the judges for many a times. Aarya created an unbeatable record when she got वरचा नी (equivalent to 200%), for her beautifully sung "Paan Khao Saiyyan Hamaro", which remains unbroken in all the 9 Schedules of SA RE GA MA PA and even after two schedules of SA RE GA MA PA for professional singers. Renowned singer Hariharan was the celebrity judge for that episode.

Aarya was also awarded performer of the week in numerous episodes by eminient singing personalities.

Aarya has won wide appreciation for her voice quality and her singing capabilities. Aarya sings a wide variety of songs ranging from pure classical songs, Natyageet, Bhavgeet, Bhaktigeet to Marathi Chitrapat Sangeet, Hindi songs, folk songs, Lavanis as well. She performs every genre with exquisite talent which makes every performance of hers a treat for the listeners.

A particularly memorable song was "Aye Mere Watan Ke Logo" which she sang in the episode to pay tribute to those who lost their lives in the Mumbai terror attacks. The emotion-stuffed rendition of the song brought tears to the eyes of the audience. She also performed the same song at Shivaji Park, Dadar in a program organized by Mumbai Police to pay tribute to the martyrs who laid down their lives fighting the terrorists in 26/11 Mumbai attack. The song was originally sung by Lata Mangeshkar after the 1962 India-China War.

During the course of the program, Aarya was also awarded the Manik Varma Scholarship. She is the youngest singer to win the prestigious scholarship.

Some of the memorable songs she rendered in the competition include:

* "Tribute Ae Mere Watan Ke Logon"
* "Tribute Vande Mataram"
* "Tribute Sainik Ho Tumchya Sathi"
* "Mala Mhantyat Punyachi Maina"
* "Cham Cham Karta Hai Ye"
* "Aho Sajana"
* "Yuwatimana Darun Ran"
* "Dil Cheez Kya Hai"
* "Suniyoji"
* "Kutha Tumhi Gela Vhata"
* "Paan Khaye Saiyya"
* "Yeu Kashi Priya"
* "Naka Todu Pavna Jara Thamba"
* "Gagan Sadan Tejomaya"
* "Samaichya Shubhrakalya"
* "Tya Chittachoratyala"
* "Jaain Vicharit Raanphula"
* "Sakhi Ga Murli Mohan"
* "Uii Sajan Ala"
* "Yamunajali Khelu Khel"
* "Avagha Rang"
* "Anamvira"
* "Saranar Kadhi Ran"
* "Ye Ga Ye Ga Vithabai"
* "Ghayal Mi Harini"
* "Ya Chimanyanno"
* "Naravar Krishnasaman"


Albums

* PanchaRatna vol. 1, 3 (Marathi: पंचरत्‍न भाग 1, 2, 3) on Universal Music India
* Garjati Sahyadriche Kade (Marathi: गर्जती सह्याद्रीचे कडे)
* Jai Hari Vitthal (Marathi: जय हरी विठ्ठल)
* Marathi Abhimaangeet composed by Kaushal Inamdar
* Aathava Swar (Marathi: आठवा स्वर) composed by Mrs. Varsha Bhave
* Mala Mhanatyat Aarya Ambekar (Marathi: मला म्हणत्यात आर्या अंबेकर)
* Geet Tujhe Gata Gata - Collections of poems of famous poet Ba. Bha. Borkar (Marathi: गीत तुझे गाता गाता)
* Khaucha Gaav (Marathi: खाउचा गाव) Composed by Yashwat Deo


Singing for Marathi Movies

* Let's Go Back
* Baalgandharva (Marathi: बालगंधर्व)

Public Appearances

Few grand events where Aarya has performed her art –

* Vasantotsav – Musical concert arranged in Pune every year by Rahul Deshpande in memory of his legendary grandfather Pandit Vasantrao Deshpande. 2008.[18]
* Shrimant Dagadusheth Halwai Ganapati Music Festival April 2009, April 2010.[19]
* Little Champs live shows in many cities like Mumbai, Pune, Nashik Sangli, Aurangabad, Goa, Ratnagiri, Thane, Nagpur, Vardha, Bhopal etc. and at international venues like Dubai, Abu Dhabi. These are runaway popular shows where Aarya performs with four other Little Champs Mugdha Vaishampayan, Prathamesh Laghate, Rohit Raut and Kartiki Gaikwad in perfect sync. This group is known as 'Panch-Ratna' (पंचरत्न).[20]
* As a celebrity guest in SaReGaMaPa - Punha Nave, Swapna Swaranche Season 7. October 2009
* Live performance in the devotional programme arranged in the presence of Bhagvan Shri Sathya Sai Baba in Sai Ashram at village Hadshi, near Pune. October 2009 [21][22]
* Live performance in the special programme arranged on the occasion of birthday of Bhagvan Shri Sathya Sai Baba in Sai Ashram at Puttaparthi. November 2009 [23]
* Live performance in Swar Asha program arranged to felicitate Asha Bhosale in Pune in March 2010. Aarya sang duets with Sudesh Bhosale in this program. The program was aired on Mi Marathi Channel.
* Live performance at a function organized by Deccan Education Society to mark its 125th year of existence. Aarya performed in front of The Honourable President of India, Her Excellency Pratibha Patil.
* Live performance along with Lata Mangeshkar in special function organized by Shiv Sena on occasion of the Golden Jubilee Year of Maharashtra State on Maharashtra Din
* Antarnaad - a program consisting of compositions by Shrinivas Khale. The program was aired on Mi Marathi Channel on 29 August 2010
* As a celebrity guest in Ashtavinayak Darshan (Marathi: अष्टविनायक दर्शन) along with Prathamesh Laghate. Ashtavinayak Darshan program consists visits to the eight holy temples of Lord Ganesha (Ashtavinayaka) situated around Pune district. This program was telecast on Star Majha channel during the Ganpati Festival 2010 from 11 September to 18 September 2010.
* Live performance in Nashik Festival 2011
* Bheeti Laagi Jeeva 2010, 2011- a special show on yearly pilgrimage from Alandi to Pandharpur telecast on IBN Lokmat.


Awards and recognition

* 2008 - Youngest to be awarded the Manik Varma Scholarship towards her future music studies.[28]
* 2009 - Runner-Up of the Sa Re Ga Ma Pa Marathi L'il Champs reality-based music competition organized by Zee Marathi.
* 2010 - Haribhau Sane Award (Marathi: हरीभाऊ साने पुरस्कार)
* 2010 - Punyaratna - YuvaGaurav Award (Marathi: पुण्यरत्न - युवागौरव पुरस्कार)


Acclaim by Idols

Aarya's tremendous depth, outstanding voice quality and sincere grinding labour taken for improving her singing, won her many acclaims from eminent personalities in the music industry. People who praised Aarya include Kishori Amonkar, Lata Mangeshkar, Shrinivas Khale, Shruti Sadolikar, Shounak Abhisheki, Pandit Hridayanath Mangeshkar, Pandit Satyasheel Deshpande, Shridhar Phadke, Suresh Wadkar, Kaushal Inamdar, Shankar Mahadevan, Shreya Ghoshal, Mahalaxmi Iyer, Hariharan, Vijay Ghate, Asha Khadilkar so on so forth.
Singer Aarya Ambekar Photos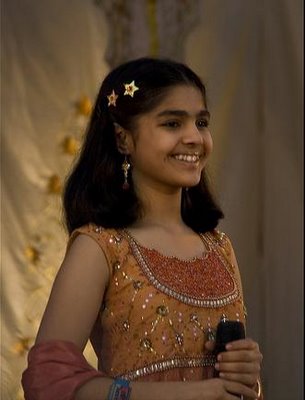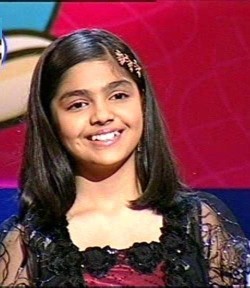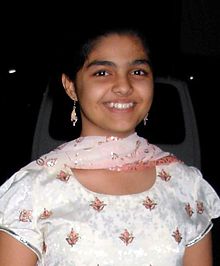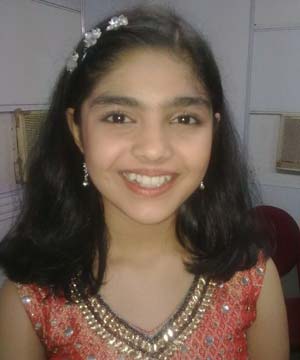 Send email to Aarya Ambekar's mail box:
| | |
| --- | --- |
| | More information about Aarya Ambekar will be added soon. If you found any nude picture, please report us. |









Advertisement