About Kitu Gidwani

Female actress Kitu Gidwani from India, famous due to bollywood
actress and model
Kitu Gidwani Actress Pictures Interview Biography

Kitu Gidwani (born 22 October 1967) is an Indian actress and model. She has starred in some movies as well as serials in Indian television. She became popular after a TV series, Air Hostess aired on Doordarshan in 1986.

Personal life and education

Gidwani was born in Mumbai. Her Sindhi parents migrated from Pakistan after the partition. They lived in a refugee camp in Worli. She has a brother.

She studied in Fort Convent School, Mumbai. Her graduation days saw her interested in French and she started acting in French plays. Soon she was acting in English plays directed by Janak Toprani. She acted in some television serials and subsequently acted in a French film "Black".

She was married and has divorced since, and has vowed not to marry again.

Career

Gidwani made her television debut in 1984, with TV soap, Trishna, and during the 1980s and 90s, gave some memorable performances in TV serials like, Swabhimaan, 'Air Hostess' and Junoon. She caught a lot of attention after her kissing scene in bed with actor Raj Zutshi in Junoon. She recently appears in multi-starrer Hindi serials, Kaashish and Kulvadhu.

In 2001, she was roped in by Wills Lifestyle, an apparel chain owned by ITC Limited, to promote Wills Sport Lifestyle brand of clothing. In 2006, he also acted in a play, 'Your Place or Mine' by Darshan Jariwala.

She also did a play, Sock'em With Honey, where he played a traditional Parsi woman from Pakistan, whose daughter falls in love with a Jew, prompting her first trip abroad.


Awards

In 1998, Kitu was awarded Best Actress by the Festival of Three Continents in Nantes, France. The award recognized her outstanding achievement for the role of Pallavi in Dance of the Wind (dir. Rajan Khosa).


Filmography

Acting Filmography

Holi (1984)
Wisdom Tree (1985)
The Khajuraho (1991)
Rukmavati Ki Haveli (1991) Kittu Gidwani
Dance of the Wind (1997) Pallavi
Karvaan (Shadows in the Dark) (1997) Lajma
Earth (1998 film) (1998) Bunty Sethna
Ek Nayi Kahani (1998)
Karvaan (1999)
Aalavandhan/Abhay(Hindi dub) (2001) Abhay/Vijay's Step-mother
Deham (2001) Jaya
Ils se marièrent et eurent beaucoup d'enfants (2004) Mme Gibson
Strangers (2007) Book Publisher
Jaane Tu Ya Jaane Na (2008) Sheila, Meghna's mother
Fashion (2008) Aneesha


Soap operas
Apart from films, she has also appeared in the following television soap operas.

Acting Filmography
Trishna (1984)
Janam (1985)
Air hostess (1986)
Swabhimaan (1995) Svetlana Bannerjee
Shaktimaan (1997) Geeta Vishwas (later replaced)
Nazarana (2002) Ishita's mother
Kesar (200?) Pam Mallya
Kasshish (2005) Ratna

Trivia

Her favourite fashion designer is Ritu Beri.
Her role-model is the French actress Jacqueline Bineche.
Her Favourite Bike is the Ducati.
Actress Kitu Gidwani Photos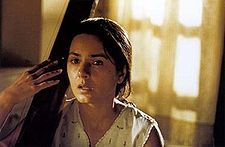 Send email to Kitu Gidwani's mail box:
| | |
| --- | --- |
| | More information about Kitu Gidwani will be added soon. If you found any nude picture, please report us. |









Advertisement