About Hema Sardesai

Female singer Hema Sardesai from India, famous due to bollywood
Playback Singer
Hema Sardesai Singer Biography, Interview & Pictures

Hema Sardesai also known as simply Hema, is an Indian playback singer, best known for her Hindi songs.

During her career, Sardesai has sung playback songs for over 60 Bollywood films, has released several successful Indipop albums, and has performed numerous live stage shows in almost all the states of India and world tours in different countries around the globe.

Sardesai is the only Indian Singer to win the Grand Prix at the 16th International Pop Song Festival in Germany, and the only female singer other than Lata Mangeshkar to perform at the celebrations for the 50th year of India's Independence day.


Career

Born in Mumbai, India, Hema Sardesai hails from Goa.

She began singing from a very young age and made her stage debut as an eight-year-old at the Navratri Festival. As a child, teachers and friends used to call her Happy Go Lucky Girl and even today she is frequently called so by her colleagues in the Indian music industry.

She started her playback singing career in 1989 and made her debut in the film Goonj, singing for actress Juhi Chawla. Since then she has sung songs for over 60 Hindi films for many popular actresses like Manisha Koirala, Urmila Matondkar, Karisma Kapoor, Raveena Tandon, Tabbu, Kajol, Preity Zinta, Sushmita Sen and Kareena Kapoor, collaborating with some of India's most prominent music directors and composers, including Anu Malik, A R Rahman, Rajesh Roshan, Nadeem-Shravan, Vishal Bhardwaj and Pritam.

Her first milestone achievement was her winning the Grand Prix at the 16th International Pop Song Festival '89 held in Germany. This gave her an opportunity to express her stage talent and, since then, she has successfully performed on TV and live stage shows in almost all the states of India and numerous world tours to places such as the USA, UK, Germany, Belgium, Spain, Holland, Australia, New Zealand, Fiji Islands, West Indies, Thailand, Nepal, Indonesia and so on.

On 15 August 1997 Hema performed at the celebrations for the 50th year of India's Independence. She sang one of her own compositions, "Mere Vatan Hindustan" at Vijay Chowk in New Delhi witnessed by an audience of nearly 3 million people. The song was specially composed for the occasion.

Her 1999 album Piya Se Milke Aaye Nain won Hema an award for "The best selling album of the season".


During her years in the Indian film industry, Sardesai was widely praised for her song performances. Her performances for songs such as Awaara Bhavaren (Sapnay, 1997), Sona Sona Ye Na Hona (Soldier, 1998), Sar Sar Hawa Hai (Daman, 2001), Kitne Kisse Hain (Astitva, 2001), Hai Re Hai Re (Khushi, 2003), Sun Suniyo (Musafir, 2004), the title track of the film Asambhav (2005) among many other, were much appreciated and applauded by critics and audiences.

Hema is the only singer who sang playback duets with four superstars: Amitabh Bachchan (Baghban), Naseeruddin Shah (Asambhav), Govinda (Hum Do Hamara Do) and Shahrukh Khan (Josh).


The Times of India wrote about her once "Hema Sardesai hit an all time high with 'Aawara Bhavaren'. A few albums which did exceedingly well on the charts followed. Hema has always been someone who needs to have her share of fun. She wants to concentrate on being the Indian girl who can get both critical and commercial acclaim. After all with a debut like 'Hindustani Gudiya' you would have expected that."

The Asian Age proclaimed that she is "A playback singer with a difference." Another critic from Record wrote, "One of the most versatile performers and singers in our industry, Hema Sardesai has over the last few years made a mark for herself in the heart of every music lover. She is versatile because she not only sings for films and Indipop, but also renders Indian Classical and Western Pop songs beautifully, besides Folk and Fusion. Her live stints in India and abroad have proved her vocal strength."


Famous songs

This is a list of Hema's Top Hit Playback Songs Sung by Hema, according to her website:[4]

* Ishq Chandi Hai - Biwi No.1
* Jungle Hai Aadhi Raat Hai - Biwi No.1
* Jaanam Samjha Karo - Jaanam Samjha Karo
* Apun Bola - Josh
* Sona Sona Ye Na Hona - Soldier
* Tere Pyaar Mein - Zor
* Mein Kudi Anjaani Ho - Zor
* Awaara Bhavaren - Sapnay
* Hulle Hulle - Aar Ya Paar
* Hai Re Hai Re - Khushi
* Kehna Hai Tumse Kehna - Mann
* Naach meri Jaan - Mujhe Meri Biwi Se Bachaao
* Na Heera Na Moti - Kunwara
* Eli Re Eli - Yaadein
* Tere Sang Ek Simple Si Coffee - Zameen
* O Maria - Josh
* Chali Chali Phir Chali Chali - Baghban
* Khalli Valli - Market
* Qayamat Qayamat - Qayamat
* Asambhav - Asambhav
* Chori Chori - Garam Masala
* Badal Pe Paon Hai - Chak De! India


Awards and honors

* 1989 - 16th International Pop Song Festival, Grand Prix in Germany
* 1999 - The best selling album of the season for the album Piya Se Milke Aaye Nain
* 2006 - All India Woman's Conference, Gomant Tejaswini Award for her outstanding achievements in the music field.
Singer Hema Sardesai Photos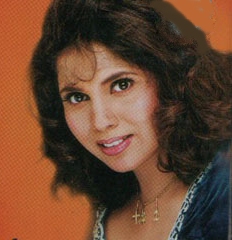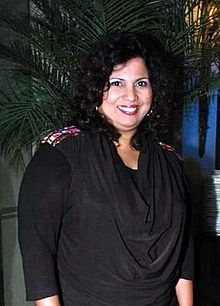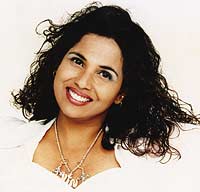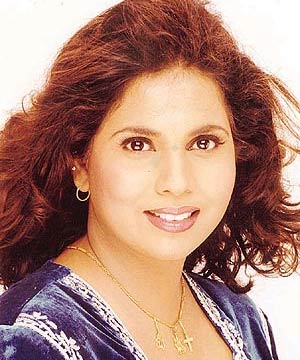 Send email to Hema Sardesai's mail box:
| | |
| --- | --- |
| | More information about Hema Sardesai will be added soon. If you found any nude picture, please report us. |









Advertisement