About Jikki

Female singer Jikki from India, famous due to tollywood
Playback Singer
Jikki Singer Biography, Interview & Pictures

Pillavalu Gajapathi Krishnaveni (Telugu: పి.జి.కృష్ణవేణి) aka Jikki (జిక్కి) , was a popular film playback singer from South India. She sang over nearly 10,000 songs in Telugu, Tamil, Kannada, Malayalam, Hindi and Sinhala languages.


Early life

Jikki was born to Gajapathi Naidu and Rajakanthamma at Chandragiri, near Tirupati in Andhra Pradesh. Her parents moved to Chennai for a living. Indeed music ran in her genes for her uncle Devaraju Naidu worked as music composer with celebrated Kannada theatre legend and movie pioneer Gubbi Veeranna. Jikki began her career as child artist and played a minor role in a Telugu movie named Panthulamma directed by Guduvalli Ramabramham in 1943. In 1946 she once again hit the silver screen with the movie Mangalasutram, the rehash of a Hollywood movie 'Excuse Me'.


Career

Jikki got a chance to sing for the Tamil movie 'Gnanasoundari' in 1948. This was the turning point in her life. She sang for the heroine, when she was young. The song Arul Tharaam Deva maathaavey Aadhiyey Inba Jothi... became super hit and so did the film. This changed actress Jikki into Playback singer Jikki. Soon Jikki began to sing regularly not only in Tamil and Telugu but also in Kannada and Malayalam films. During those years as most of the Sinhalese films were produced in South India, she sang for Sri Lankan films movies too. She got many chances to sing in all southern languages. She sang many songs with P. Leela another famous playback singer.



Personal life

She was married to successful playback singer and music director A. M. Rajah. A.M.Rajah-Jikki duets have been super-duper hits. The Tamil movie 'Then Nivalu' was a big hit also because these all time great singers. Jikki has also sung many songs in her husband's direction - songs that still play in radio stations. A mother of six children, Jikki lost her husband in a train mishap. He slipped and fell in between the tracks while boarding a train. This was one incident that she could never forget. After her husband's death she stopped singing for sometime. Then she came out of retirement and sang for Ilaiyaraaja. She also started a music troupe with her two daughters and performed in many countries including U.S.


Personality

Unlike many singers she was not always after money. Once when she sang five songs for a Tamil film, She asked the producer 'Valampuri Somanathan' to reduce her remuneration because he had given her the opportunity to sing so many songs in a single movie, such is her dedication for singing.



Filmography

1. Mana Desam (1949)
2. Palletoori Pilla (1950)
3. Shavukaru (1950)
4. Samsaram (1950)
5. Patala Bhairavi (1951)
6. Navvite Navaratnalu (1951)
7. Dharmadevata (1952/I)
8. Palletooru (1952)
9. Aah (1953)
10. Bratuku Theruvu (1953)
11. Devadasu (1953)
12. Pardesi (1953)
13. Pratigna (1953/I)
14. Rechukka (1954)
15. Todu Dongalu (1954)
16. Donga Ramudu (1955)
17. Rojulu Marayi (1955)
18. Anarkali (1955)
19. Ardhangi (1955)
20. Chiranjeevulu (1956)
21. Bhale Ramudu (1956)
22. Edi Nijam (1956)
23. Jayam Manade (1956)
24. Kanakatara (1956)
25. Penki Pellam (1956)
26. Suvarna Sundari (1957/I)
27. Maya Bazaar (Telugu, 1957)
28. Maya Bazaar (Tamil, 1957)
29. Bhale Bava (1957)
30. Panduranga Mahatyam (1957)
31. Sarangadhara (1957)
32. Todi Kodallu (1957)
33. Chenchu Lakshmi (1958/I)
34. Mangalya Balam (1958)
35. Krishna Leelalu (1959)
36. Raja Makutam (1959/I)
37. Pelli Kaanuka (1960)
38. Sahasra Siracheda Apoorva Chinthamani (1960)
39. Shantinivasam (1960)
40. Sri Venkateswara Mahatyam (1960)
41. Sri Seetha Rama Kalyanam (1961)
42. Batasari (1961)
43. Sabash Raja (1961)
44. Thirudathe (1961)
45. Bhishma (1962)
46. Gulebakavali Katha (1962)
47. Siri Sampadalu (1962)
48. Tirupathamma Katha (1963)
49. Lava Kusha (1963/I)
50. Sampoorna Ramayanam (1971)
51. Shrimanthudu (1971)
52. Vattathukkul Chathuram (1978)
53. Aditya 369 (1991)
54. Seetharamaiah Gari Manavaralu (1991)
55. Ninne Pelladatha (1996)
56. Murari (2001)



Awards and honours

She was honoured with "Ugadi Puraskaram" by Madras Telugu Academy and Government of Tamilnadu awarded her "Kalai Ma Mani".

Death

She had been sufferin from Breast Cancer and had surgery, but the cancer soon spread to her Kidneys and eventually the Brain. Several attempts were made to save her life which were supported by donations through musical nites, medical/financial support from Governments of Tamilnadu and Andhra Pradesh. Then Tamilnadu chief minister J.Jayalalithaa had granted jikki of Rs 100,000 (one lakh rupees) from the 'Dr. MGR' trust after hearing her illness and her difficulty to meet the treatment expenses. Finally, she died on August 16, 2004 in Chennai.
Singer Jikki Photos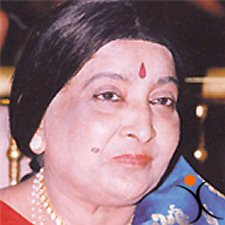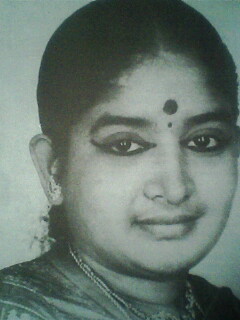 Send email to Jikki's mail box:
| | |
| --- | --- |
| | More information about Jikki will be added soon. If you found any nude picture, please report us. |









Advertisement