About Munawar Zarif

Male comedian Munawar Zarif from Pakistan, famous due to film
Comedian, Hero, Singer
Munawar Zarif Actor Pictures Interview Biography

First film: Dandian (Punjabi - 1961)
Last film: Lahu de rishte (Punjabi - 1980)
Munawar Zarif was the all time greatest ever comedian/hero in Pakistani films (60s & 70s). He started his film career from a Punjabi film Dandian in 1961 and got breakthrough from film Hath Jori in 1964. After a marvelous film career as a top comedian, he became film hero - first as side-hero in Pardey mein rehne do and then in the title roles and hero in the same year 1973 in Banarsi Thugg and Jeera Blade. He appeared in more than 300 films in just 16 years from 1961-76. Here are some of his very famous films in different roles:
In the title-roles: Rangeela aur Munawar Zarif, Banarsi Thag, Noukar Wohti da, Jeera Blade, Khushiya, Sheeda Pastol, Chakarbaaz, Heera Phumman, Mara naa Patey Khan, Hukam da Ghulam, Namak Haraam, Badtameez, Bande da Puttar, Ajj da Mehinwal, Sacha Jhoota, Ustad Shagird, Jano Kapatt, Manji kithey dahwani...

As Hero/Comedian: Pyar ka Mousam, Shoukan mele di, Khoufnaak, Guddi, Gama B.A, Kill kill mera naa.....

As Co-Hero/Comedian: Parde mein rehne do, Be-imaan, Imandaar, Baat puhnchi teri jawani tak, Nanha Farishta, Sharif Badmaash, Miss Hippy, Chitra te Shera, Rajjo, Wardat, Bhool...

As a Comedian: Hath Jori, Pilpili Sahib, Jeedar, Aina, Bharya Mela, Zamindar, Lado, Mirza Jatt, Jigri Yaar, Do Mutiyaran, Badla, Bau Jee, Heer Ranjha, Sassi Punnu, Baharo Phool Barsao, Daman aur Chingari, Ishq Deewana, Jani Dushman, Lachhi, Jagg Biti, Tere Ishq Nachaya, Chann Makhna, Sajjan Pyara, Ishq na puchhe zaat, Jind Jan, Dhee Rani, Dia aur Toofan, Mukhra Chann warga, Genter Man, Sajna door deya, Rangeela, Dil dian lagian, Duniya Matlib di, Anwara, Insan aur Admi, Att Khuda da vair, Khamosh Nighaen, Dil aur Duniya, Geo Jatta, Sucha Souda, Aasoo Billa, Do Pattar Anaran de, Khan ChaCha, Sultan, Zulm da badla, Sajjan beparwah, Ziddi, Nagri Daata di, Hasde ao hasde jao and many many more...

As villain-comedian: Zeanat, Puttar da pyar, Mastana Mahi...

As an extra actor: Dandian, Mouj Mela, Daachi, Chacha Khamkhah, Malangi...
As a guest actor: Sangdil, Do Rangeeley, Hamrahi...
Munawar Zarif was born in Gujranwala on February 2, 1940 and died in the age of just 36 years by heart attack on April 29, 1976. He was younger brother of 50s great comedian Zarif (Mohammad Siddiq). His son Fiasal Munawar Zarif was introduced as hero in two films in the 90s with Puttar Munawar Zarif da and Putter Jeerey Blade da, but he failed. Munir and Rasheed Zarif were his other brothers. His youngest brother Majeed Zarif is still in film industry as comedian/co-actor.
Comedian Munawar Zarif Photos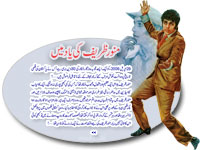 Send email to Munawar Zarif's mail box:
| | |
| --- | --- |
| | More information about Munawar Zarif will be added soon. If you found any nude picture, please report us. |









Advertisement