About Adnan Sami

Male singer Adnan Sami from India, famous due to bollywood
Playback Singer
Adnan Sami Singer Biography, Interview & Pictures

Adnan Sami (Urdu: عدنان سمیع ; Hindi: अदनान समी; born 15 August 1973) is a British-born Pakistani-Canadian singer, musician, pianist, actor and composer of Pakistani origin. He currently holds Canadian citizenship and works and lives in Mumbai, India. His style merges Asian and Western music styles and instrumentation and ranges from classical to jazz to modern pop-rock.



Early life and education

Adnan Sami was born, brought up and educated in London, United Kingdom. His father, Arshad Sami Khan was a pilot with the Pakistan Air Force and a Pakistani diplomat. Sami attended Rugby School. He had played the piano since the age of five. Sami began taking lessons from Pandit Shivkumar Sharma when visiting India during his school vacations. Indian singing legend Asha Bhosle spotted talent in a ten-year-old Sami at an R D Burman concert in London, and encouraged him to take up music as a career.

As a teenager, Sami, when performing on the sitar at a programme in Stockholm, was noticed by Keyboard Magazine as being the fastest man on keyboard in Asia. Sami went on to learn Indian classical music from Mahraj Khatak, a Pakistani classical singing teacher and dancer. At the age of sixteen, Sami was approached to write a song for famine-hit Ethiopia for which he won a special award from UNICEF.

He graduated from King's College and became the first person to play Indian classical music on the electric piano.


Career

He had his first solo album Raag Time in 1991-92. The song from his album "Kisi Din Teri Yaad" was the title track "Jab Chandani Barh Kar" of his first album. In 1994, he composed music for a film for the first time. The Pakistani film, in which Adnan was the lead actor with his wife Zeba and famous Indian playback singer Asha Bhosle did the playback, Sargam, was a blockbuster. However, the authorities banned Asha's voice from the soundtrack which disappointed Adnan. He then had to re-record these songs with Hadiqa Kiyani. To date Sargam is the only film Adnan acted in. After unsuccessfully trying to make it to the restrictive Pakistani pop scene in 1997, in 2000, Asha Bhosle teamed up with him to release a collection of love songs named Kabhi to Nazar Milao. The music was also composed by Adnan. According to Adnan, this was a "dream come true" for him. The album became an instant blockbuster and topped the Indipop charts for most of 2001. According to BusinessWeek, the album sold 2 million copies in India.

Two songs from the album, "Kabhi To Nazar Milao", whose music video featured model Aditi Gowitrikar and Lift Karaa De whose music video starred the popular Indian actor Govinda,citation needed became immensely popular at that time. The videos were shot by Anil Mehra who had shot popular Hindi films, Hum Dil De Chuke Sanam and Lagaan. Looking at the immense success of that album, Magnasound and Adnan released an album Always Yours which was a remix version of numbers from that album.

He soon became a sensation, which led Hindi filmmaker Boney Kapoor to invite him to give music for his film. This was the beginning for him composing and singing songs for Hindi films very successfully of even the top Hindi film producers of the time like Yash Chopra and Subhash Ghai. Due to the immense popularity of his music videos and live performances, he had even begun getting acting offers at this time.

The song, "Tu Sirf Mera Mehboob", from the Hindi film, Ajnabee (2001) sung by Adnan also became a rage and was a superhit. Screen Magazine called him the pop personality of the year in 2001.

In 2002, Pepsi Foods made Adnan its brand ambassador in India, a contract which involved hosting a series of live music concerts across cities as well as Adnan featuring in ads for Pepsi products. According to the Pakistani newspaper Dawn, no Pakistani artist had managed to gain as much popularity in India as Sami had. According to an article in the Indian newspaper The Times of India, Sami was the most successful face in non-film music in India at that time.

His second studio album, Tera Chehra, was released in October 2002 to critical eulogies even as his first album was still selling. The music videos for this album were shot by Binod Pradhan who had shot the popular Hindi film Devdas, directed by Bela Sehgal (director of Devdas Sanjay Leela Bhansali's sister) and featured popular Bollywood stars Rani Mukerji in the title track, Amitabh Bachchan in the track "Kabhi Nahi", who also sang the duet with Adnan and actress Mahima Chaudhry in another song. The title track was written by famous Hindi movie lyricist Sameer. According to the Screen Magazine, it was the only successful pop album of the year.

Saathiya (2002) brought him the opportunity to work with maestro A. R. Rahman in the form of "Aye Udi Udi", which he was looking forward to. According to Screen Magazine, the song was the highlight of the album. Rediff.com called him the "reigning king of Indipop" in early 2003 based on the sales of his albums in the past two years.

His most successful albums have been Kabhi To Nazar Milao (with Asha Bhosle) and Tera Chehra, and his music videos usually have had a host of Bollywood stars in them, including Namrata Shirodkar ("Bheegi Bheegi Raat"), Mahima Chaudhry, Raveena Tandon, Rani Mukerji ("Tera Chehra"), Govinda, Fardeen Khan, Amisha Patel ("O Meri Jaan"), Bhumika Chawla ("Maahiya"), Dia Mirza ("Pal Do Pal") and most famously, Amitabh Bachchan ("Kabhi Nahi")

Since 2003, he has sung for a few Tamil movies like Boys, Aayutha Ezhuthu composed by A.R. Rehman. The songs, "Boom Boom" from Boys and "Nenjamellam Kadhal" from Aayitha Ezhuthu, were hits. He also sang for the Tamil and Telugu versions besides the Hindi version of songs from the movie Yuva (2004) whose music was also composed by A. R. Rahman. Besides Rahman, he also worked together with composer Yuvan Shankar Raja, singing hit Tamil songs "Oh Intha Kadhal" from Satham Podathey and "Oru Kal" from Siva Manasula Sakthi, which got very popular and widely noticed. He sang the song "Chanchadi Adi Urang Nee" in the Malayalam movie called Makalkku.citation needed He has also sang for a Kannada film. His first Kannada song, "Don't Worry Madabeda" for the film Super Star starring Upendra was a big hit.citation needed He also worked with music composers Devi Sri Prasad and MM Keeravani singing songs in Telugu films Varsham, Chatrapathi, Shankar Dada MBBS and 100% Love.

In 2006, he took a sabbatical, and reportedly lost over 70 kg, to make a comeback in April 2007 with a new album Kisi Din. In 2007, he sang the soundtrack of the hit Salaam-e-Ishq: A Tribute to Love. He composed film music for Shaurya (2008).. His last film music composition was in 2010 for Sadiyaan

In 2011, Sami started judging the singing reality show Sa Re Ga Ma Pa L'il Champs.


Personal life

Adnan Sami was married to Zeba Bakhtiar for a short period (2nd marriage, separated in 1996[41]/1997) from whom he had a son Azaan Khan. After their separation, Adnan allegedly abducted their son and took him to Dubai after the Lahore High Court awarded custody rights to Zeba.

In May 1998, Zeba alleged that Pakistani and UAE officials were not co-operating with her in her bid to gain custody of her son from Adnan. She took the custody of Azaan by appealing in a Canadian court. Canadian immigration officials "stormed" Adnan's home, arrested him and "whisked away" his son who was handed over to his mother, Zeba. According to Adnan, this forced him to cancel millions of dollars worth of concerts and other recording obligations. Adnan's father, Arshad Sami Khan, filed a defamation suit against Zeba and her family claiming that during the hearing, he and his family members were defamed.

According to Sami, this was when he began to gain weight by using food for comfort and getting more depressed and this became a vicious cycle and by June 2006, he weighed 206 kilos.

In 2001, Sami fell in love with and married Dubai-based Sabah Galadari his third marriage and her second. This relationship also called quits a year-and-a-half later. According to Adnan, Sabah left him because he was obese. He also claimed that they were married for 10 years.

Around 2001, Sami, who was then based in Dubai, unsuccessfully attempted to acquire Indian citizenship. After failing to acquire Indian citizenship, he attempted to acquire Canadian citizenship and was successful in getting it.

In 2002, Adnan filed an appeal for the custody of his son Azaan in a Pakistani court by claiming that Zeba had obtained the custody of Azaan by "misleading the Canadian court through false and ill-founded allegations against him". Soon after, the two agreed to reconcile and settle the issue out of court after years of legal battles. Adnan agreed to let Zeba have custody but wanted access to Azaan. But it did not work out and in 2004, he sued the Canadian government for $30 million in connection with the immigration raid that had ended with his son "being whisked away". According to Sami, he won the case.

In 2004, Sami revealed himself as a huge fan of S D Burman and R D Burman.

In 2005, Adnan suffered from lymphoedema and developed an abscess in the knee. He was in intensive care, had to undergo a risky surgery and was in bed for three months.

In June 2006, Adnan weighed 206 kilograms (450 lb) and according to him, his doctor said he was giving him just six months to live. By diet, exercise and will-power, Adnan lost 107 kg (240 lb) weight in 9 months.

In 2008, Adnan's wife Sabah returned to Mumbai, remarried and began staying with Adnan.

On 30 January 2009, Adnan's wife Sabah registered a case against Adnan at the Oshiwara police station accusing him of physical and mental torture after they had a violent fight.Adnan was summoned to the police station and warned against misbehaving with his wife in future. According to Adnan, Sabah is making a claim to his flat in Lokhandwala and did not allow his father to return to it. He said he was planning to fight in court with his wife. Adnan also said that his wife was unkind to his son from a previous marriage, Azaan. Sabah has said that their troubles began soon after remarriage and that Adnan was suffering from alcoholism which "increased by the day" and would often indulge in violence against her.

According to her, on one occasion, Adnan drank so much alcohol that he fell down in the bathroom and they had to cancel a show in London. She has also said that he abused and apologised to her and it became a pattern and that she loved him "so much". Adnan Sami violated the law of India and purchased 8 flats in Mumbai with out approval from the competent authorities, Naresh Kadyan, Chairman — PFA Haryana asked the Mumbai Police to lodge FIR against Adnan Sami u/s 420, 120-B IPC along with other relevant sections of the law of the land.

Adnan married for the third time on 3 April 2010, with an Afghan origin German national woman, Roya Faryabi. Roya works as Project Manager for a US-based company, operating in Germany. According to media, Adnan first met Roya in India and proposed to her after some time, while Roya says that she always liked Adnan and he is the best match for her.


Awards and accolades

Sami has won many international awards, including the Nigar Award, the Bolan Academy Award, and the Graduate Award. He was given a special award by UNICEF for the song he wrote for famine-hit Ethiopia as a teenager and a United Nations Peace Medal for a song he wrote and performed for Africa

A review of his piano solo performance on Channel 4, UK, in Keyboard Magazine acknowledged him as the "Keyboard Discovery of The 90s".

In 2001, he was awarded the Breakthrough Artist of the Year by MTV.

He was invited to be a member of the jury of the prestigious music festival Voice of Asia competition, held annually at Almaty, Kazakhstan - the jury comprises top music composers of the world.[citation needed] Sami was featured in a documentary, commissioned by the Foreign and Common Wealth Office of Great Britain, about ten people from the Indian subcontinent, who have influenced the Asian culture in the UK over the last fifty years. Swedish and British radio and television have often referred to him as the fastest keyboard player in the world. Sami has performed for prestigious music festivals to sold-out stadia of his solo concert tours all over the world in over forty countries. In summer 2003, he became the only Asian artist to have sold out, Wembley Stadium, London, for two consecutive nights, which won him a place in the Limca Book of Records.

As a classical concert pianist, Sami has had the honour of giving "Group" Royal Command performances before the King of Sweden and King Hussein of Jordan.

In 2008, he was presented the Naushad Music Award by Andhra Pradesh Department of Culture, at Hyderabad. In 2008 he also won "Best International Act" at the UK Asian Music Awards.
Singer Adnan Sami Photos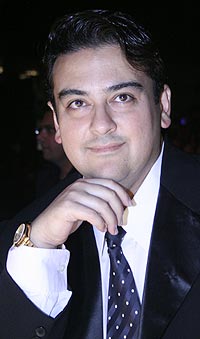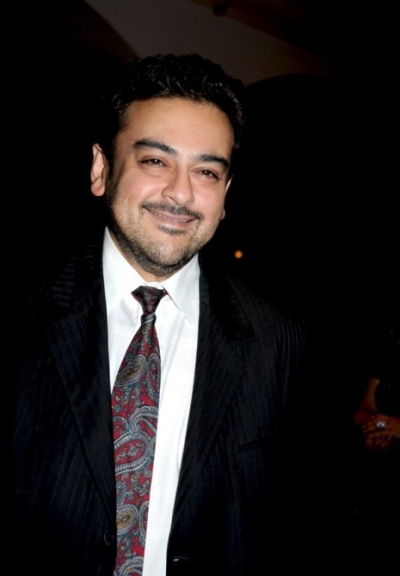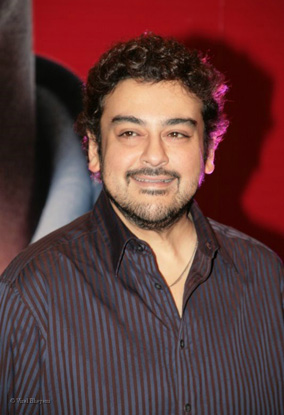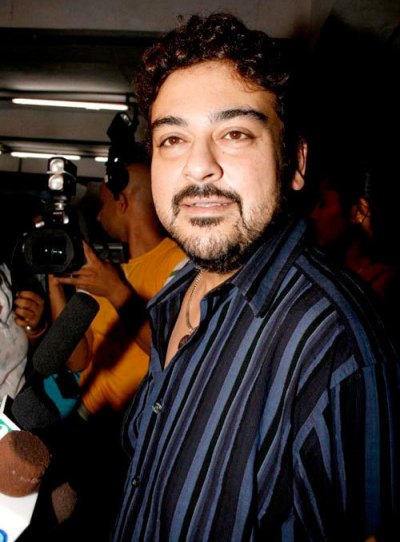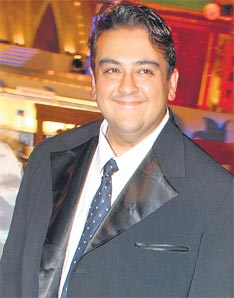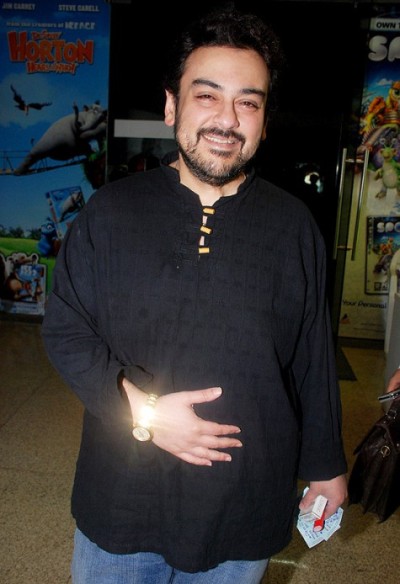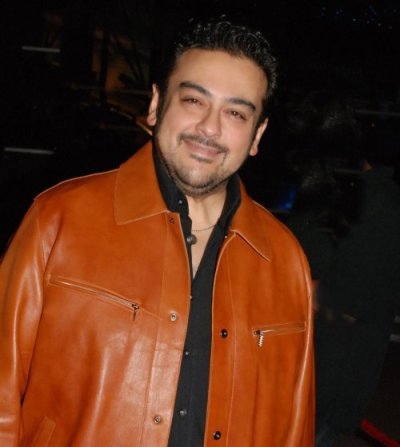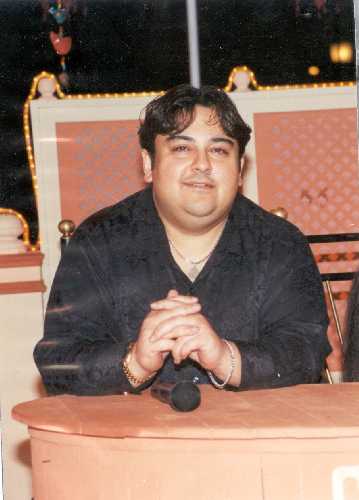 Send email to Adnan Sami's mail box:
| | |
| --- | --- |
| | More information about Adnan Sami will be added soon. If you found any nude picture, please report us. |









Advertisement