About Adeeb

Male actor Adeeb from Pakistan, famous due to lollywood
villain
Adeeb Actor Pictures Interview Biography

First film (in Pakistan): Daal mein kala (Urdu - 1962)
Last film: Majajan (Punjabi - 2006)
The best known villain actor in costume films from the 60s. He was born as Muzaffar Adeeb in a Kashmiri family in 1934. Assisted S.M. Yousuf in Bombay as script writer and director and appeared as actor in his Indian films Pak Daaman, Rambo, Zabak, Simporan Nirane and Mehndi. He was villain in Prathvi Raj's film "Insaan".
Adeeb left India in 1962 and appeared as villain actor in Pakistan in film Daal mein Kala, Aadil, Hatim Tai, Shahi Mehal, Shahi Faqeer, Aanso ban geye Moti, Dia aur Toofan, Neya Svera, Haidar Ali, Mohammad bin Qasim, Hussan ka Chor, Baghi Sardar, Ashiyana, Zulm da badla and many other films in 60s/70s. He became very busy villain actor in the 80s Punjabi action movies. Moula Jatt and Sher Khan were some of his big films. His last big film was Majajan.


Adeeb died on May 26, 2006 in Lahore. Here are some of his famous films:

No. Year Films Language Actors
1 1962 Daal mein kala Urdu Bahar, Mohammad Ali, Kemal, Adeeb
2 1963 Mr. X Urdu Nasira, Mohammad Ali, Nirala, Nammo, Kammo, Adeeb
3 1964 Bees din Urdu Rani, Mohammad Ali, Santosh, Nirala, Kemal Irani, Adeeb
4 1964 Maa ka pyar Urdu Sabira, Habib, Rukhsana, Adeeb, Sultan Rahi, Tamanna, Asad, ChhamChham
5 1964 Aashiana Urdu Zeba, Kemal, Habib, Rukhsana, Nighat Sultana, Lehri, Nabeela, Asad Jaafri, Asha Posley, Faizi, Najmul Hassan, Adeeb
6 1965 Dil ke tukrey Urdu Shamim Ara, Habib, Deeba, Mohammad Ali, Adeeb
7 1965 Jhanjhar Punjabi Firdous, Habib, Adeeb
8 1965 Nache Nagin baje Been Urdu Rani, Mohammad Ali, Firdous, Rangeela, Adeeb
9 1965 Saaz aur Awaz Urdu Rani, Habib, Ragni, Adeeb, Talish, S. Gul
10 1966 Baghi Sardar Urdu Saloni, Mohammad Ali, Ghazala, Zahoor Raja, Adeeb
11 1966 Hussan ka chor Urdu Deeba, Habib, Meena, Adeeb, Rangeela, Razia, Saqi, Farida, Mazhar Shah
12 1966 Mother-e-Watan Urdu Deeba, Mohammad Ali, Rangeela, Adeeb, Talish
13 1966 Naghma.e-Sehra Urdu Neelo, Sudhir, Mohammad Ali, Allauddin, Adeeb
14 1966 Aadil Urdu Saloni, Mohammad Ali, M. Ismael, Adeeb
15 1967 Hatim Tai Urdu Saloni, Mohammad Ali, Rukhsana, Yousuf Khan, Rangeela, Adeeb, Sultan Rahi
16 1967 Rishta Hai Pyar Ka Urdu Zeba, Waheed Murad, Iqbal Yousuf, Hanif, Farida, Adeeb
17 1968 Commander Urdu Sabiha, Santosh, Rani, Saiqa, Adeeb
18 1968 Dara Urdu Rani, Nasrullah Butt, Aliya, Adeeb
19 1968 Josh-e-Inteqaam Urdu Deeba, Shakeel, Adeeb
20 1968 Lala Rukh Urdu Neelo, Mohammad Ali, Nanha, Aslam Pervez, Adeeb, Talish
21 1968 Mehal Urdu Zeba, Mohammad Ali, Ghazala, Lehri, Saqi, Adeeb
22 1968 Paristan Urdu Neelo, Mohammad Ali, Meena, Asad, Nazar, Adeeb
23 1968 Soney ki Chirya Urdu Ghazala, Mohammad Ali, Sabira Sultana, Adeeb, Ilyas
24 1969 C.I.D. Urdu Deeba, Sultan, Adeeb
25 1969 Dia aur Toofan Urdu Naghma, Ejaz, Haidar, Rani, Zahid Khan, Rangeela, Munawar Zarif, Khalifa Nazir, Razia, Zulfi, Rasheed Zarif, Munir Zarif, Naeem Hashmi, Najeeb, Salma Mumtaz, Zeenat, Tahira, Niggo, Meena Chodhary, Adeeb, Talish, Ilyas Kashmiri
26 1969 Geet kahin Sangeet kahin Urdu Nasima Khan, Mohammad Ali, Rangeela, Saiqa, Adeeb
27 1969 Ik Nageena Urdu Deeba, Waheed Murad, Aaliya, Qavi, Lehri, Saiqa, Adeeb
28 1969 Naaz Urdu Shabnam, Mohammad Ali, Rangeela, Adeeb, Ilyas
29 1969 Shabistan Urdu Saloni, Sudhir, Adeeb
30 1969 Shahi Mehal Urdu Firdous, Mohammad Ali, Nasira, Adeeb, Aslam Pervez
31 1970 Afsana Urdu Deeba, Waheed Murad, Rozina, Nanha, Zeenat, Adeeb
32 1970 Love in Jungle Urdu Aliya, Azeem, Adeeb
33 1970 Nya svera Urdu Shabnam, Ejaz, Adeeb, Talish
34 1970 Shahi Faqeer Urdu Ghazala, Masood Akhtar Rana, Adeeb
35 1970 Aansoo ban geye Moti Urdu Shamim Ara, Mohammad Ali, Naseema Khan, Adeeb
36 1971 Mr. 303 Urdu Rani, Nasrullah Butt, Tarana, Adeeb, Rangeela, Sultan Rahi
37 1971 Sakhi Lutera Urdu Rani, Nasrullah Butt, Rangeela, Rehan, Adeeb
38 1971 Yeh Amman Urdu Nisho, Jameel, Sangeeta, Iqbal Hassan, Adeeb, Allauddin, Talish
39 1972 Do Pattar Annaran de Punjabi Rozina, Habib, Ejaz, Aaliya, Munawar Zarif, Razia, Tamanna, ChunChun, Sultan Rahi, Adeeb
40 1972 Sipah Salar Urdu Saloni, Ejaz, Adeeb
41 1972 Zulm da Badla Punjabi Ghazala, Kaifee, Aaliya, Munawar Zarif, Naheed, Adeeb, Jaggi, Asad Bukhari and Inayat Hussain Bhatti
42 1974 Dushman Urdu Mumtaz, Waheed Murad, Mohammad Ali, Zeba, Adeeb
43 1974 Kei saal pehle Urdu Rukhsana, Sudhir, Adeeb
44 1974 Pyar hi Pyar Urdu Asiya, Waheed Murad, Shazia, M. Saeed, Allauddin, Adeeb
45 1974 Shikar Urdu Mumtaz, Shahid, Adeeb
46 1975 Hivan Urdu Nisho, Shahid, Adeeb
47 1975 Shirin Farhad Urdu Zeba, Mohammad Ali, Talish, Adeeb, Allauddin
48 1975 Sultana Daku Punjabi Neelo, Sudhir, Adeeb
49 1976 Mohabbat aur Dosti Urdu Najma, Shahid, Adeeb
50 1978 Ameer te Gharib Punjabi Aliya, Yousuf Khan, Adeeb
51 1978 Haidar Ali Urdu Mumtaz, Mohammad Ali, Sabiha, Habib, Adeeb, Talish
52 1979 Josh Urdu Rani, Mohammad Ali, Babra Sharif, Shahid, Aslam Pervez, Adeeb
53 1979 Mohammad bin Qasim Urdu Nisho, Nazim, Zamurrad, Qavi, Adeeb, Nayyar Sultana, Talish
54 1979 Nishana Urdu Deeba, Habib, Adeeb
55 1981 Sangram Urdu Mumtaz, Mohammad Ali, Asif, Adeeb, Nayyar Sultana
56 1985 Hong Kong ke Sholay Urdu Babra Sharif, Javed Sheikh, Adeeb
57 1986 Talash Urdu Nazan, Nadeem, Sachanda, Shafi Mohammad, Adeeb
58 1986 Zanjeer Urdu Mumtaz, Javed Sheikh, Mohammad Ali, Nazan, Adeeb
59 1987 Rocky Dada Urdu Sonia, Shahid, Mohammad Ali, Habib, Adeeb, Bahar
60 1988 Mukhra Punjabi Babra Sharif, Nadeem, Samina Peerzada, Ismail Shah, Adeeb, Hamayun Qureshi, Talish
61 1989 Kala Heera Punjabi Mumtaz, Ghulam Mohayuddin, Adeeb
62 1989 Mazdoor Punjabi Anjuman, Sultan Rahi, Gori, Adeeb
63 1990 Kufr-o-Islam Pashto Mumtaz, Mohammad Ali, Asif, Adeeb, Nayyar Sultana
64 1990 Lutera Punjabi Anjuman, Sultan Rahi, Adeeb
65 1990 Ustadon ke Ustad Urdu Babra Sharif, Nadeem, Javed Sheikh, Adeeb
66 2006 Majajan Urdu Saima, Shaan, Madiha Shah, Saud, Adeeb

Adeeb (1934 - March 26, 2006) was a Pakistani film actor. He was born in 1934 to Pashtun parents in Kashmir. His family moved on to Bombay before Partition and that is where the actor in him emerged, after the completion of his Master Degree in Urdu Literature from the University in Maharashtra. Unlike his contemporaries, scriptwriting was the first love of Adeeb, who worked in the scriptwriting department with Raj Kapoor's father, Prithviraj Kapoor, in Prithvi Theatre and later with Indian National Theatre as assistant director. It is during this time in India that he got to know the basics of acting which later helped him enthrall generations of audience

Although he worked in minor roles in his initial career, it was Zia Sarhadi's Footpath (1953) that gave him his first breakthrough role opposite Dilip Kumar, Meena Kumari and Anwar Hussain (Nargis's brother). He worked in 30 films during his stay in India including Mehndi, Pak Daman and Jung, before migrating to Pakistan in 1962, on the insistence of director Akbar Ali Akku and actor/director Iqbal Yusuf, son of Adeeb's close friend, director S.M. Yusuf. He settled in Karachi and later moved on to Lahore in search of roles which kept pouring in from the '60s until his very last film — Syed Noor's super-hit Majajan.

In an era when on-screen villainy in Pakistani films was ruled by good looking villains such as Aslam Pervez, Masood Akhtar and even Mohammad Ali (in his initial films), Adeeb made his entry with Daal Mein Kala (1964), which was directed by Iqbal Yusuf and featured Syed Kamal and Bahar in the lead along with late actors Nirala and Mohammad Ali. In the coming years, he became close to Mohammad Ali and the two acted in numerous successful films like Kaneez (1965), Aadil and Baghi Sardar (1966), Hatim Tai (1967), Mahal (1968), Naaz (1969), Aansoo Ban Gaye Moti (1970), Dushman (1974), Shirin Farhad (1975), Haider Ali (1978), Josh (1979), Sangram (1981), Zanjeer (1986) with Rocky Dada being their last film together in 1987.

He was at ease in both Urdu and Punjabi films, playing memorable roles in countless films opposite other actors such as Sultan Rahi in the epic Maula Jat and Andaata, Waheed Murad in Eid Mubarak and Kaneez (1965), Saaz Aur Awaaz (1965), Rishta Hai Pyar Ka (1967), Aik Nagina (1969), Afsana (1970) and Dushman (1974), Syed Kamal in Daal Main Kaala (1962) and Shab Bakhair and Nadeem in Talaash (1986), Ustadon Kay Ustad (1990) and Khazana (1995). Late directors in their films — Rangeela's Diya Aur Toofan (1969) and Riaz Shahid's Gharnata and Yeh Aman (both 1971) — gave Adeeb tailor-made roles to show his true potential. Interestingly, he was one of the few actors to work with actor Shaan's father ,Riaz Shahid ,and portray the character of his father on-screen, lastly in Majajan.

From Dilip Kumar to Shaan, actors of all generations played hero to the 72-year-old legend who sent shivers down the spine of both heroes and heroines with his larger than life on-screen presence. During his last days, he was more active on stage than in films and depicted the role of Sir Syed Ahmed Khan in one of his last TV plays. In a career spanning over 50 years, Adeeb featured in more than 600 films, depicting villainous roles in different shades such as a deceiving brother, cruel father, nasty husband, dishonest friend and brutal landlord. He will truly be remembered for his thunderous dialogues, devious plots and sometimes malicious acts on screen where life always ends with a final 'Cut'.

Adeeb died on March 26, 2006 at the Punjab Institute of Cardiology, Lahore, where he was admitted after suffering a heart attack. His death comes a couple of weeks after that of screen legend Mohammed Ali, with whom he starred with in more than 30 films.
Actor Adeeb Photos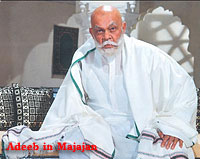 Send email to Adeeb's mail box:
| | |
| --- | --- |
| | More information about Adeeb will be added soon. If you found any nude picture, please report us. |









Advertisement