About Suneeta Marshall

Female model Suneeta Marshall from Pakistan, famous due to tv
model and actress
Suneeta Marshall Actress Pictures Interview Biography

Suneeta Marshall (born 1982) is a Pakistani model.

Personal Life

Marshall was born in Lahore, Pakistan to a Pakistani Christian family. She is a commerce graduate from Karachi's St Patrick's College.

In April and May 2008, a news "Dhoom dharakka for Sunita" appeared in various newspapers. Sunita Marshall tied the knot with a co-model Hassan Ahmad. In fact, Hassan turned model & actor to work with her as he was the event manager and met Sunita at one of his shows.


Modeling

Marshall was introduced into the modeling world by her aunt, who runs a famous beauty salon in Lahore. She made her first appearance in a Garnier Fructis commercial. After doing a few more commercials for hair products such as Pantene, Head and Shoulders and Kuene, Suneeta disappeared from the world of television commercials.


Come Back

Marshall made a come back as the Gul Ahmed new girl. Suneeta Marshall was on every Gul Ahmed billboard and in every Gul Ahmed spread in all the magazines. This was enough for people to notice this new up and coming model who was before only known as the Fructis girl. After her contract ended with Gul Ahmed, Suneeta decided to work with big fashion designers such as Deepak Perwani, HSY, Bunto Kazmi and Nilofer Shahid.


Big Break

It really was not until Marhsall worked for Bunto Kazmi, that she received true fame. Suneeta was chosen by Bunto Kazmi to model her clothes in 2000 for a Milan fashion show. For the first time Suneeta received international fame and recognition and that did wonders for her. After a little international exposure, Suneeta was brave enough to muster up the strength and submit her portfolio directly to fashion designers such as Dior and Gucci. Suneeta landed the job with Dior right away but it was not until a little while that Suneeta started working for Gucci as well. Suneeta opened Dior's show in Karachi and then in Dubai, London, Paris and Moscow.

Suneeta Marshall's fame was further increased when she decided to star in Abaraul Haq's music video Preeto (Pretty). After her first success Suneeta decided to star in the music video for the Shehzad Roy song "Jana". Suneeta also decided to try her hand at acting and started off by doing a television movie called Tere Bina (without you) in which she played a young spoiled girl who elopes with her boyfriend and then later learns about the responsibilities of marriage. After that Suneeta Marshall got to play the lead in the very successful television drama Malika in which she plays a Fashion Model/Actress who gets ahead of her friend in show business.

Marshall has worked with countless famous Pakistani designers and has had contracts with many big companies such as LUX, Revlon, Jazz, Mobilink, and Sunsilk. Suneeta has also been offered to act in Indian Films but since most Indian Films are musicals, Suneeta turned them down and in an interview on the famous talk show Bushra Bushra, she revealed that she is interested in doing more serious work.
Model Suneeta Marshall Photos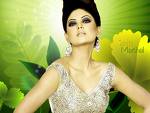 Send email to Suneeta Marshall's mail box:
| | |
| --- | --- |
| | More information about Suneeta Marshall will be added soon. If you found any nude picture, please report us. |









Advertisement