About Anuradha Paudwal

Female singer Anuradha Paudwal from India, famous due to bollywood
Playback Singer
Anuradha Paudwal Singer Biography, Interview & Pictures

Anuradha Paudwal (Marathi: अनुराधा पौडवाल) is a popular playback singer in Bollywood in India. She has sung songs in Hindi and Marathi.


Biography

She studied at Xavier's College in Mumbai. She was married to the late Arun Paudwal, who worked with music director S. D. Burman as his assistant. Her singing career started in 1973 with the movie, Abhimaan, (starring Amitabh Bachchan and Jaya Bachchan) in which she sang a Shloka (a Sanskrit verse). In the same year she also made her Marathi film debut with "Yashoda" (music by Datta Davjekar). In 1974, she brought out a record of Non-film Marathi songs or "bhav geeten" which became very popular.

In 1976, she got her break as a playback singer in Hindi films with Kalicharan(starring Shatrugan Sinha and Reena Roy). Her first solo was in the movie, Aap Beeti, (starring Hema Malini and Shashi Kapoor). Laxmikant-Pyarelal were the music-composer duo for that movie. She also occasionally sang songs for composers Rajesh Roshan (Des Pardes), Jaidev (Dooriyan, Laila Majnu), Kalyanji-Anandji (Kalaakar, Vidhataa), and Usha Khanna (Souten, Sajan Bina Suhagan).

Anuradha sang in a number of Marathi movies including the memorable "Disate Majalaa" (Ashtavinayak), "Raja Lalakaari", and "Kaalyaa Maatita Maatitaa". Most of these movies had music by the duo of Anil-Arun, Arun being her husband, who collaborated with Anil Mohile to form a pair.

Anuradha apparently never received any formal training in classical music, stating in an interview, "I have not received any formal training in classical music. I have tried many times, but it has never worked out. I learnt a little here and a little there, but ultimately, I just practiced for many hours listening to Lataji".[1]

Anuradha gained recognition with her popular numbers for the movie, Hero, for composers Laxmikant-Pyarelal. Her collaboration with Laxmikant Pyarelal produced more success with songs for "Meri Jung"(O mere Kwabon ke), "Batwara" (Thaare Vaaste Re Dola-Tu Maaro Kaun Lage),"Nagina" and many more. "Ram Lakhan" saw Laxmikant Pyarelal giving three major hit songs to Anuradha. Their association ended with "Tezaab" where she sang two good numbers for them- "Kehdo ki tum" and "Hum tumko Dilbar Kyon mane".

Following this she collaborated with movie producer, Gulshan Kumar, and began a success streak with the movies, Lal Dupatta Malmal Ka, Tezaab, Aashiqui, and Dil Hai Ke Manta Nahin. She along with Gulshan Kumar were instrumental in getting many unknown playback singers to the fore, including Kumar Sanu, Udit Narayan, Abhijeet, Sonu Nigam. New Music directors, including her husband Arun Paudwal, were introduced to the music world. Nadeem-Shravan, Anu Malik, Anand-Milind, Nikhil Vinay and Amar Utpal all collaborated with T-Series (Gulshan Kumar's music label) and started a new era of melody in Bollywood.She has sung maximum duets with Udit Narayan and Kumar Sanu. Her other notable songs were also for the famous duo Shiv-Hari, Shivakumar Sharma and HariPrasad Chaurasia for the movie "Sahebaan". She has also sung for RD BUrman in her initial days and actually convinced him to make songs for Gulshan Kumar's label in his last days and the song "Aja Meri Jaan" set to one of the background score of R.D.Burman from "Saagar" is still popular. Anuradha also sang beautiful duets with her co-singers from the south, notably S.P.Balasubrahmanyam and K.J. Yesudas.

Anuradha has had her share of controversies as well. She was one of the rare singers to bloom during the reign of the Mangeshkar sisters in the Bollywood music industry. She was also under much controversy when she dubbed the songs of Alka Yagnik in the film "Dil". This also caused rifts between Anand-Milind and Alka Yagnik, thereby causing them to not collaborate for 2 years. Later in 1998, Anuradha Paudwal dubbed the songs of Alka Yagnik once again for the film Itihaas, this time under the music direction of Dilip Sen-Sameer Sen. However, Alka Yagnik, protested, to which the music company, T-Series was forced to include both versions of the same song, one in the voice of Alka Yagnik and the other in the voice of Anuradha Paudwal. She further went to dub Lata Mangeshkar's song in "Radha Ka Sangam" citing that her voice suited the heroine better. Anu Malik, a smaller name then, who had composed the soundtrack of Radha Ka Sangam, protested against this move.

At her peak, Anuradha announced that henceforth she would sing exclusively for "T-Series", and concentrated on devotional songs and "cover-version" albums. T-Series used her attractive and pleasing looks to good effect in numerous Bhajan and promotional videos. She was the first playback singer whose face featured on music covers more than the film's actors. She sang for T-series for some time and then went into a sabbatical. After about five years, she restarted her playback career. She sang a few hit songs for her old music directors but the reception for her comeback was mild.

Although Anuradha has significantly cutback in singing for films, she has continued on with her popularity for singing devotional songs and creating devotional albums, which ultimately remains her forte. She has collaborated with Pandit Jasraj on his "Geet Govind , many devotional albums with Anup Jalota. Her voice is well suited on devotional numbers

In Marathi Anuradha has sung for music directors like her husband Arun Paudwal, Anil-Arun (i.e. Anil Mohile and Arun Paudwal duo), Hridaynath Mangeshkar, Shridhar Phadke


Awards and recognition

* 1986: Filmfare Award in the Best Female Playback category for the song Mere Mann Bajaa Mridang in the movie, Utsav.
* 1990: National Film Award for female playback for the song He Ek Reshami in the Marathi film Kalat Nakalat
* 1991: Filmfare Award in the Best Female Playback category for the song Nazar Ke Saamne in the movie, Aashiqui.
* 1992: Filmfare Award in the Best Female Playback category for the song Dil Hai Ke Manta Nahi in the movie, Dil Hai Ki Manta Nahin.
* 1993: Filmfare Award in the Best Female Playback category for Dhak dhak in the movie, Beta.
Singer Anuradha Paudwal Photos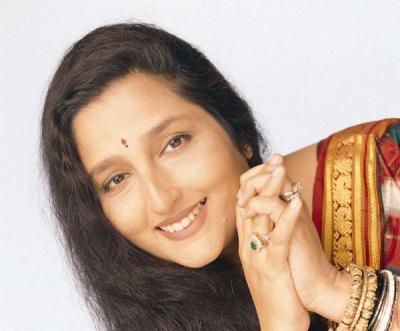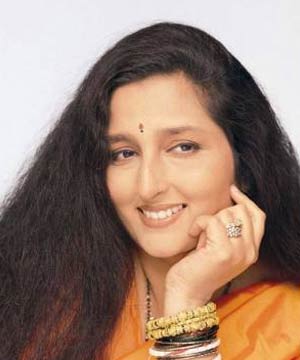 Send email to Anuradha Paudwal's mail box:
| | |
| --- | --- |
| | More information about Anuradha Paudwal will be added soon. If you found any nude picture, please report us. |









Advertisement