About Mallika Sarabhai

Female singer Mallika Sarabhai from India, famous due to bollywood
Classical Singer
Mallika Sarabhai Singer Biography, Interview & Pictures

Mallika Sarabhai (Malayalam: മല്ലിക സാരാഭായ്, Gujarati: મલ્લિકા સારાભાઇ) (born 9 May 1954) is an activist and Indian Classical Dancer from Ahmedabad, Gujarat, India. Daughter of Classical Dancer Mrinalini Sarabhai and renowned Space Scientist Vikram Sarabhai, Mallika is an accomplished Kuchipudi and Bharatanatyam dancer.


Early life

Mallika Sarabhai was born in Ahmedabad, Gujarat, India in 1954 to Vikram Sarabhai and Mrinalini Sarabhai. She completed her MBA from IIM Ahmedabad in 1974 and Doctorate in Organisational Behaviour from the Gujarat University in 1976. She is a noted choreographer and dancer and has also acted in few Hindi and Gujarati films.


Career

She started to learn dancing when she was young, and started her film career in parallel cinema, when she was 15. Mallika played the role of Draupadi in the Peter Brook's play The Mahabharata. Mallika has won many accolades during her long career, the Golden Star Award being one of them, which she won for the Best Dance Soloist, Theatre De Champs Elysees, Paris 1977. As well as a dancer, Sarabhai is a social activist. She, along with her mother, manages the Darpana Academy of Performing Arts located at Ahmedabad.


Theatre for awareness

In 1989 she performed hard-hitting solo theatrical works, Shakti: The Power of Women. After it she directed and acteded in numerous productions reflecting current issues and awareness among people.

Mallika Sarabhai also wrote the script for the play Unsuni based on Harsh Mander's book Unheard Voices. Arvind Gaur later directed it as a play, with the same name. Darpana Academy has launched the people awareness movement through its production Unsuni which travels all over India.

In 2009 Mallika Sarabhai acted in Bertolt Brecht's Indian adaptation of The Good Person of Szechwan ( Ahmedabad ki Aurat Bhali-Ramkali) directed by Arvind Gaur in 34th Vikram Sarabhai International Art Festival.


Personal life

"I have always done things without hiding them," says Mallika, remembering her college days, which saw her wearing mini-skirts, dating men, even going in for a live-in relationship. She recalls her mother's horror when she first started living with somebody, "I explained to her why it was important for me to find out if I wanted a permanent commitment or not."

Mallika met Bipin Shah during her college days and eventually married him. They were divorced seven years later. They have two children, a son, Revanta and a daughter Anahita. Bipin and Mallika co-founded Mapin Publishing in 1984 and continue to run it together.


Political career

On 19 March 2009, Mallika Sarabhai announced her candidature against the Bharatiya Janata Party's prime ministerial candidate L K Advani for the Gandhinagar Lok Sabha seat, as an independent candidate. A Congress spokesperson made it clear that she was not the Congress's candidate, nevertheless there was speculation that the Congress high command had asked the Gujarat state unit to support her candidature. In a reply to a question, she said she had neither personally approached the Congress nor did it offer to make her its candidate for the 2009 election, however in the past she had received many offer from the Congress to contest election, the first being in 1984 from Rajiv Gandhi. She described her candidature as a Satyagraha against the politics of hatred. She eventually lost to L K Advani by a huge margin and forfeited her election deposit in the process. During BJP chief minister's sadbhavna(harmony) fast ( from 17-19 Sept 2011) , she protested against the Chief Minister Narendra Modi



Awards and honours

* Padma Bhushan, third highest civilian award in India, 2010
* Crystal Award by World Economic Forum, 2008 .
* Theatre Pasta Theatre Awards, 2007.
* Nominated as one among 1000 women for Nobel Peace Prize ,2005.
* Indian for Collective Actions Honour Award, 2004.
* Kala Shiromani Purskar, Institute of Economic Studies, 2004.
* Woman of the Year, Indian Merchants' Chamber(IMC), 2003.
* Knight of the Order of Arts & Letters, French Government, 2002.
* Sangeet Natak Akademi Award for Creative Dance, 2000.
* Chevalier des Palmes Academiques, French Government, 1999.
* Film Critics Award for Best Supporting Actress, Sheesha, 1984.
* Best Film Actress Award for, "Mena Gurjari", a Gujarati film, by Govt.of Gujarat, 1975.
* Film Critics Award for Best Actress, Muthi Bhar Chawal, 1974.
Singer Mallika Sarabhai Photos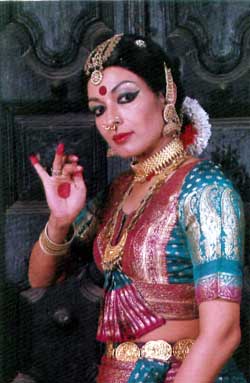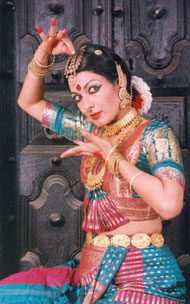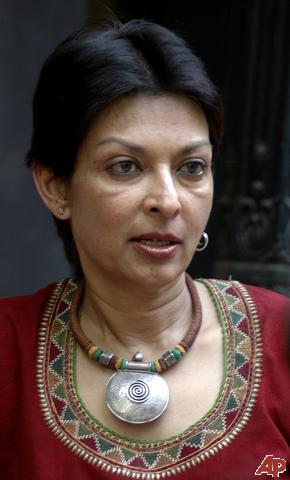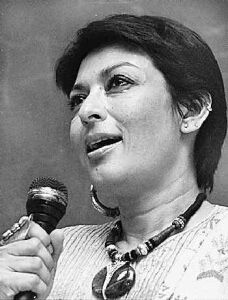 Send email to Mallika Sarabhai's mail box:
| | |
| --- | --- |
| | More information about Mallika Sarabhai will be added soon. If you found any nude picture, please report us. |









Advertisement